The Marketing Group of New England is now offering residential developers a new market research focus group service to help ensure they design and build the right product for the current market.
The focus group programs can be custom developed for both broker and prospective buyer audiences and are designed to provide practical insights and key qualitative findings to inform all of the key elements of residential project design. Through facilitated in-person discussions with small groups of pre-qualified participants, developers become better informed about such critical elements as neighborhood and location impressions, design and unit mix, floor plans, amenities, finish levels, upgrades, and, most importantly, pricing.
The new focus groups are one element in TMG's comprehensive, all-points approach to ensuring developer and project financial success. Provided individually or as part of a complete, integrated marketing and sales program, TMG services include strategic consulting in such key areas as floor plans, unit mix and design, model unit design and planning, sales office infrastructure planning and set-up, branding and marketing communications. TMG offers these services either "a la carte" or as a comprehensive, integrated program.
For more information, contact Diane Maloney at 617-425-0003, or email dmaloney@themarketinggroupboston.com.

Focus Group Research Could Have Helped the W
January 27, 2011
The price a developer pays by building the wrong product — one that is priced too high, that offers wrong amenities package, or the wrong type of floor plans — can be very heavy.
Consider the plight of the W Hotel, examined by writer Michael Blanding in the January '11 issue of Boston magazine. Just 14 months ago, as characterized in the article, it was "the hottest property in the city." Today, the W has filed for bankruptcy protection with the developer facing the possibility of foreclosure by its lender, Prudential Real Estate Investors.
To be sure, as the article points out, the economic downturn has played a major role in the W's struggles, as has the project's theater district location. But, in all likelihood, so has the unit designs — small one- and three-bedroom designs — and the pricing. Trying to charge substantially more than the market's perceived value for a type of design in a questionable location is a reality that even "sweeping views of traditional Boston landmarks" like the Boston Common and State House can't seem to overcome.
As the article, notes, the property "had plenty of stiff competition, primarily two other nearby condo projects: the Clarendon and 45 Province, which feature larger units with more-upscale furnishings....to date, the Clarendon has sold 48 units with an average price of $1.7 million, and 45 Province has sold 26 units with an average price of $1.2 million."
The lesson? To succeed, you have to build to the market. And to really understand the market, you need market research instead of intuition alone. While may be true that "the one thing you can't get in Boston is a one-bedroom with a view" or a "small three bedroom," there's one thing missing from the observation: at the right price.
Just ask a prospective buyer.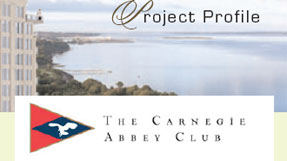 The Marketing Group has been engaged by O'Neill Properties Group to develop and manage a strategic marketing plan to gain sales momentum for the Tower at The Carnegie Abbey Club in Portsmouth, Rhode Island. This strategy is based on value to include new pricing, a new media schedule with a new ad campaign, new web site, new unit models, and a creative event schedule.
Dramatically rising 220 feet above the spectacular Narragansett Bay waterfront, the Tower at Carnegie Abbey is 80 exquisite residences on 22 stories. Featuring the finest materials and finishes, with windows as tall as 7 feet and private balconies providing unsurpassed vistas of

Carnegie Abbey's golf club, marina and the Narragansett Bay coastline, the Tower delivers uncompromising luxury and spectacular views.
The Carnegie Abbey Club is a unique addition to the legendary realm of Newport, Rhode Island real estate. A private estate embracing success and dedicated to the art of living well, Carnegie Abbey comprises over 400 acres on Narragansett Bay, just six miles from Newport. The Club provides members an "oasis of luxury and comfort in which to pursue the pleasures of life." In addition to a Scottish links-style championship golf course designed by the renowned Donald Steel, the Club offers equestrian facilities, yachting, tennis, fishing, and cultural events as well as a variety of incomparable waterfront homes.